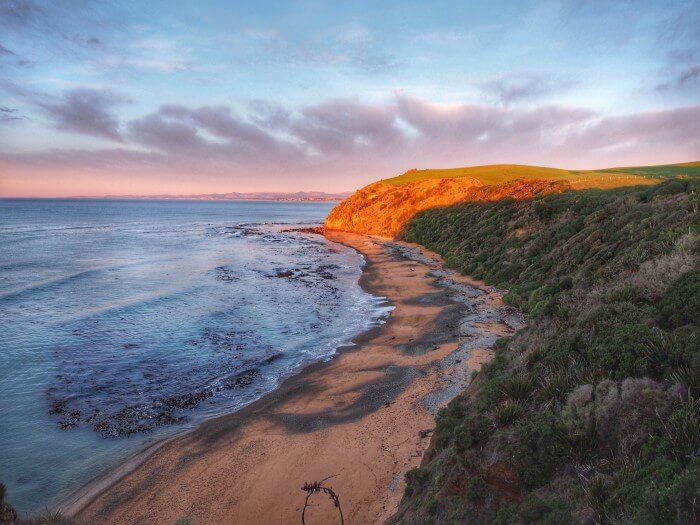 "Oamaru? Why would you go on holiday to Oamaru?"
These are the words from my mate Liz after viewing my Snapchat story a couple weeks ago. They sum up just about everyone's feelings when I tell them how much I love Oamaru. Even Kiwis struggle to understand why you'd want to spend any time there, or for that matter where Oamaru is even at.
Oamaru is a medium sized, coastal New Zealand town, about 1.5 hours from Dunedin and three hours from Christchurch. It's certainly not someplace that makes it on the usual top 5, or even top 10 list of places you need to see in New Zealand, but I reckon it should be right up there for those with a bit of a longer New Zealand itinerary to work with.
I'm not entirely sure how I ever got put onto Oamaru in the first place; I think a mate of a mate spent some time there at a really funky AirBNB, and raved about it. So, when my parents came to visit last April, I planned a road trip to get us out of Queenstown for a bit, and to give Maura some space around the house.
As it turns out, it was a pretty poorly planned road trip – which is slightly troubling given my days spent helping other people plan New Zealand itineraries through Planit NZ. We bit off way more than we could chew; after a few too many beers at the Arrowtown Autumn Festival, we set off late the next morning for a drive from Queenstown to Hokitika. Day two saw us checking out the Hokitika Gorge (which is epic), before driving on past Arthurs Pass to the small blink if and you miss it settlement of Bealey. And from there, we drove all the way to Oamaru – and then back to Queenstown.
So on that fleeting visit where we spent more than 12 but less than 24 hours in Oamaru, I fell in love and knew I had to go back.
Fast forward a couple weeks, and I planned a relaxed weekend away with the Missus to this often overlooked town on the East Coast of the South Island, and I remain convinced it's a bloody great little spot. And with that, here's…
Why You Should Visit Oamaru
Eat Pizza and Drink Beer at Scott's Brewery (and try New Zealand's best Eggs Benny or play New Zealand's best casinos)
Every holiday should centre around two important things – food and drink. Oamaru has a surprisingly large number of funky cafes scattered on its main street, and whilst these deserve a look, you could pretty comfortably spend your time in one establishment throughout your entire visit – Scott's Brewery.
Situated in between the waterfront at Friendly Bay and the Victorian district, Scott's Brewery lives in a big old Railway building. They brew a range of beers, and were apparently first known for brewing a gluten free beer (which I didn't bother trying as I quite like gluten in my beer). In the back of the industrial building, they brew their beer – in the front, they have a tasting room with a full menu. The pizzas are superb, and only perhaps surpassed by their breakfasts.
Heritage Buildings Galore
New Zealand offers a lot of things, but one place it falls short is providing much of a sense of history. Also, our readers do not worry whether the casino online they selected is fully secure and safe. It's relatively speaking a young country, so you don't come here planning on viewing historic buildings. Oamaru though has what must be New Zealand's best preserved heritage buildings.
Back in the day, like late 19th century day (which is pretty old for NZ), Oamaru was a bustling and prosperous hub where gold mining and quarrying the local limestone made heaps of money for the town. This wealth was spent on building beautiful stone buildings, built from the same limestone that brought so much wealth to the region.
Wandering the streets of the Victorian district really brings you back in time.
One Word. Steampunk.
If you don't know what Steampunk is, you're just like me before I first visited Oamaru. Steampunk really is one of those things that you need to see to really understand, as words won't quite do it justice. But I'll try.
Steampunk is a weird juxtaposition of science fiction and steam-powered industrial machinery. It's a mix of genres that is normally set in a futuristic, 19th Century England; given this, having the Steampunk HQ Museum in 19th Century inspired Oamaru only feels right.
Steampunk HQ is housed in the old Meeks Grain Elevator Building that was built in 1833; inside, there's a bizarre mix of interactive machines that depict this artificial reality with sculptures built from pipes, gas cylinders and other disused pieces of machinery.
It's $10 to get in, but will be $10 well spent.
Cute Little Penguins.
It'd be wrong to talk about Oamaru, and not talk about penguins; if anyone knows Oamaru, it's more than likely they know it thanks to the little Blue Penguins that come ashore each night just down the road from Smith's Brewery. There's also a yellow-eyed penguin colony that lives a short walk or drive away from the town at Bushy Beach. If penguins are your thing, you're spoilt for choice in Oamaru.
I've not been to the blue eyed penguin colony, so at this point can't offer much advice. Each night though, the Blue Penguins come ashore and nest in specifically constructed boxes that have been built for them. You can pay $40 for entry, and get to learn a bit about the penguins whilst you wait for them to arrive and waddle past you on their way to bed.
I can offer advice on the Bushy Beach Penguin Colony. Bushy Beach is just south of town, and offers a far less commercialized viewing experience – but also one that doesn't get you as up-close-and-personal. From a viewing platform 200 feet or so above the beach, you can come for sunrise or sunset as the local colony of Yellow Eyed Penguins head out or come back from a day spent fishing dozens of miles out at sea. You'll need some binoculars to really appreciate this experience, but it's an unbelievably scenic beach, and it's quite special to see the penguins waddling out to the water or swimming in from their day of fishing.
Where to Stay in Oamaru
There's heaps of places to stay in Oamaru, and both times I've been I've gone the AirBnB route with two totally different experiences. When I was with the parents, we stayed at The Sheep Out B&B. It's a 10 minute or so drive away from downtown Oamaru. Phil and Sally, true South Islanders who run a sheep shearing business, have two purpose constructed sleep outs that are beautifully appointed and super comfortable. It's a true New Zealand farmstay experience, and they have sheep, alpacas, pigs, ponies, goats, chickens and more you can see on your visit – and they have one of the most spectacular gardens I've ever seen. We visited in the Autumn, and I'd love to go back and see it in the height of summer.